MONTHLY
COFFEE
SUBSCRIPTION

Discover Australia's Best Coffee Roasters Every Month.
---
Take Your Coffee to the next level
Every Month, we partner with a passionate and knowledgable coffee roaster to bring you their signature blend and/or their seasonal Single Origin!
---
What this means for you...
👉 Never run out of coffee
👉 Discover amazing roasters in Australia
👉 Enjoy professionally curated cafe-quality coffees
👉 Free delivery
👉 Cancel anytime
Raymond T. (Blend Subscriber since Mar, 2020)
★★★★★ | Blend Subscription
Love opening package every month. An opportunity to taste new brews and a chance to learn about the roaster, the roast and especially like the recipe formula as well. Well Done Caleb and team!
Frederick A. (Blend Subscriber since Mar, 2021)
★★★★★ | Highlight of the month
Very much enjoying my blend monthly subscription. Packages arrive timely and in good order. Interesting variety of flavours and I am becoming a bit more perceptive about my coffee. Very much look forward to my monthly delivery. Thank you.
Andrew P. (Single Origin Subscriber since June, 2021)
★★★★★ | Loved it!
I got this for 6 months as a gift for my husband. He absolutely loved every coffee that came, and looked forward to each delivery! Will definitely get it again down the track :)
Danielle B. (Blend & Single Origin Subscriber since August, 2021)
★★★★★ | Fantastic Service
Have signed up to a monthly subscription as a gift for my partner. So far the service has been fantastic, amazing support & prompt delivery of interesting coffees with information on both the SO & blend. Would recommend.
Peter S. (Blend & Single Origin Subscriber since May, 2021)
★★★★★ | Fantastic
It arrives pretty quick, it's packed well with minimal waste, and I like the little info cards that come with the different brands.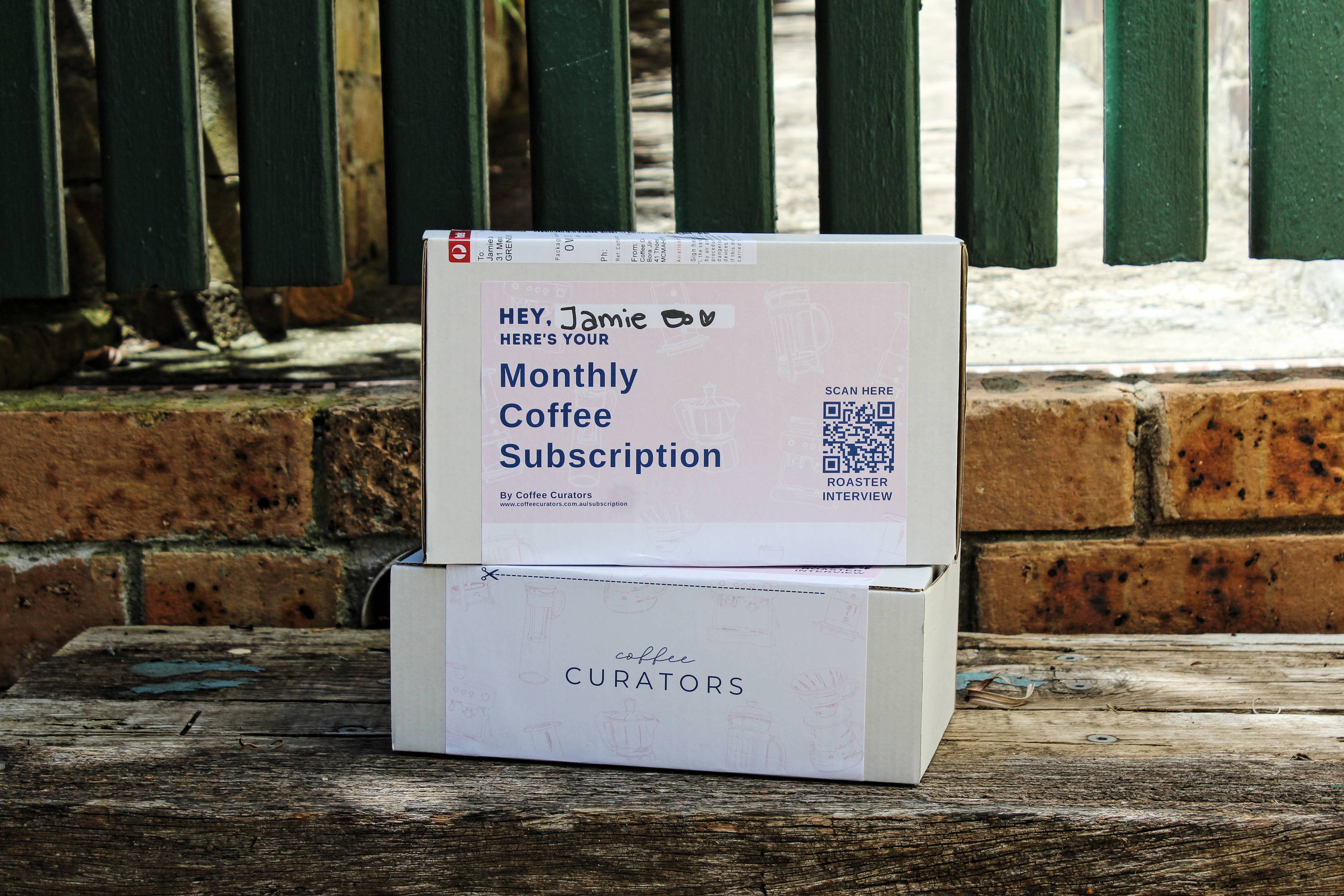 Why do we do this?
The Australian Coffee Industry is blessed with so many passionate people and roasterys and we are proud to be a part of it!
The Monthly Coffee Subscription is not just a Coffee subscription that saves you from running out of coffee, it's an outlet for us to shout out about the roasters we love and respect, and for us to assist your journey in finding what flavour profiles you enjoy the most, by providing you a different style of roast / coffee each month.
Become a Subscriber and join us in the ride of getting to know roasters both inside and outside of Coffee Curators!
---
Thinking of a Coffee Loving Friend?
Our subscriptions are also available as gift options!
Simply select the type, amount and duration of months you'd like to gift for
---
Check Out The Latest Roaster!
---